We were surprised by the wide variety of dishes local to Tenerife. A rich cuisine isn't one of the characteristics which immediately spring to mind when thinking about the Canary Islands, but of course it makes sense — close to Africa, linked historically to Europe, and with a strong connection to the New World, the food of Tenerife should be special. Here are a few more dishes we loved.
Puchero Canario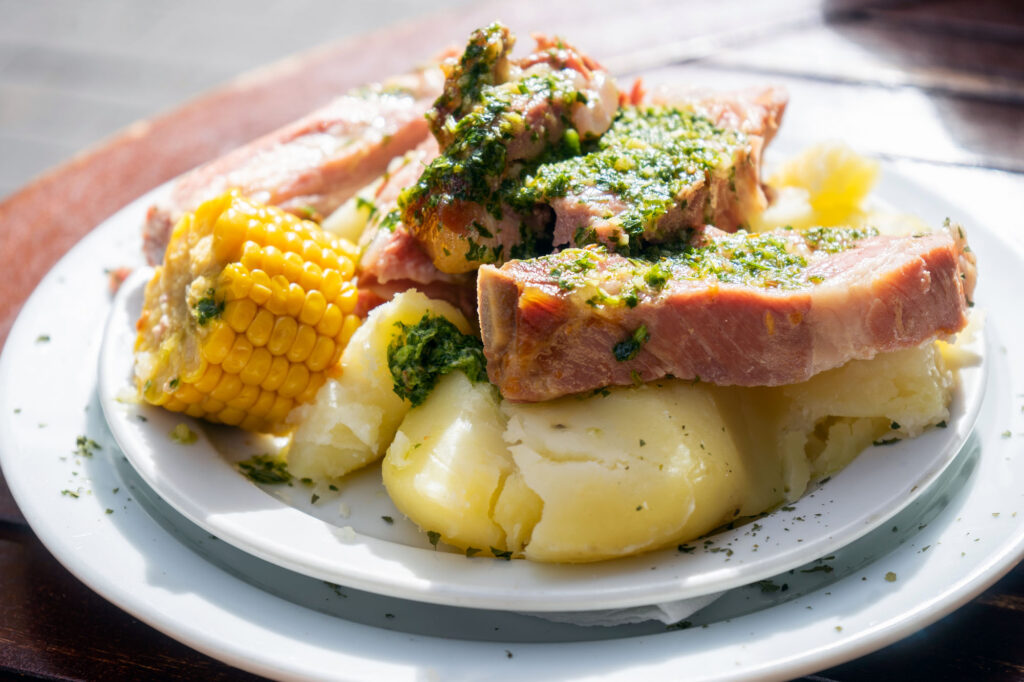 A hearty dish for the chilly winter months, puchero canario is a collection of stewed meats and vegetables. Chickpeas, veal, pork ribs, chicken, beans, carrots, zucchini, pumpkin, potatoes and even pears are thrown into a pot and stewed for a couple hours. This is a dish meant to be shared with a large family — everyone fishes their favorite parts out of the pot, or allows grandma to divvy it all up fairly.
Almogrote
Finely grated cured cheese is mixed with spicy red pepper, garlic, and olive oil, until reaching a creamy consistency. If this description of almogrote isn't making your stomach grumble, you might want to see a doctor! We ordered almogrote constantly, usually eating it spread across bread, but occasionally just eating it straight from the spoon, depending upon how depraved we were feeling. It's originally from La Gomera, but has become a staple across the Canaries. It should be a stable across the world.
Barraquito
This is how Tinerfeños prefer to drink their coffee… sweet, strong, and with a healthy dose of liquor. A barraquito is a standard post-meal drink, served with both whole and condensed milk, and topped with cinnamon and lemon. The reason for the drink's popularity, though, is the generous shot of Licor 43: a sweet, yellow liqueur from Cartagena.
Principe Alberto
If you're not in the mood for alcoholic coffee after your meal, perhaps you'd be interested in the Prince Albert — a rich mousse of chocolate, butter, hazelnuts and almonds, served cold atop a crunchy cookie base. This dessert originated in nearby La Palma, but has become just as popular on Tenerife.
More Tenerife Food Journal and Drinks Photos: