The northern coast of Tenerife is a lot different from the more tranquil south. On this side of the island, the Atlantic Ocean is angrier, the water is colder, and the sand is neither golden and soft, but black and volcanic. But that doesn't mean the beaches of the north are never fun. We really enjoyed the small rocky beach of San Marcos, near Icod.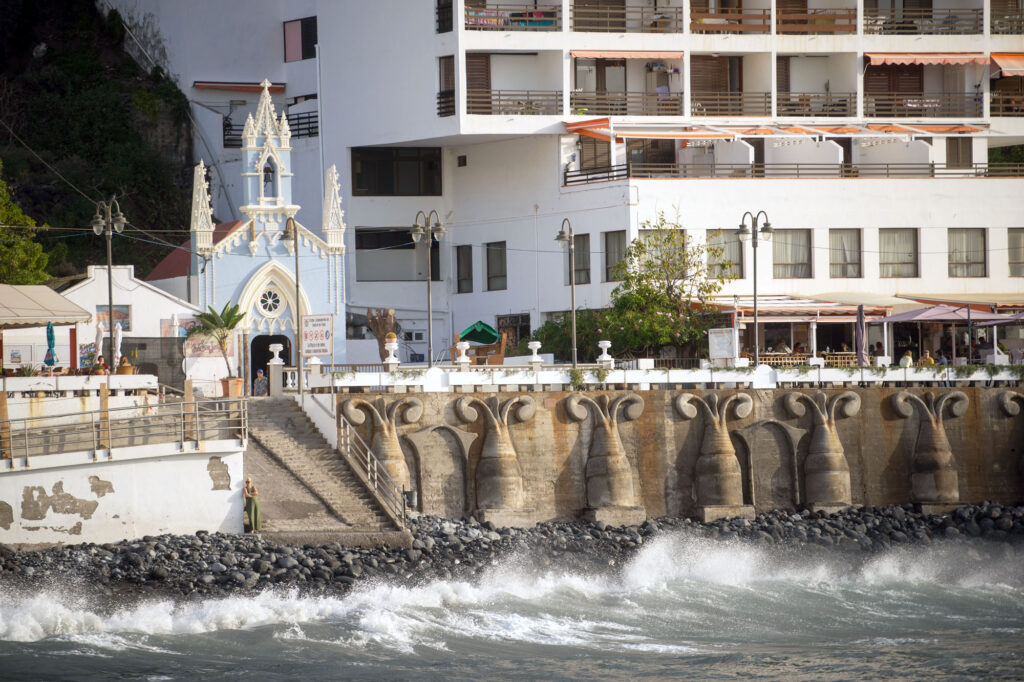 The Playa de San Marcos is one of the beaches nearest to Icod de los Vinos, an inland town popular with tourists. So we were surprised to find the beach rather quiet. I can't promise it's always so relaxed; we were visiting in the winter, on a regular weekday. But it might be one of those places "hidden in plain sight", which flies under the radar. But this is a small beach, without the hotels or services of many others lining its coast, and probably manages to escape the worst of Tenerife's tourism rush.
After parking, we walked down via the docks, past a group of fisherman finishing up for the day, and were stopped in our tracks by the royalty of San Marcos. Two magnificent ducks, who occupy a little house on the cement landing, and were waddling back home after a day of doing whatever it is elderly ducks do. We greeted them with little bows, feeling weirdly compelled to receive their blessing before continuing on to the beach.
But even after having bowed before the ducks, there was one more mini-detour to make, before reaching the black sand of San Marcos. Jürgen had spotted a bizarre workshop with a bronzed old guy hacking away at stone carvings. Noting our interest in his craft, he took us on an exhaustive tour of his work, and invited us inside the shop … and even into his stone bedroom which was decorated with fur pelts, sculptures, and some of the creepiest taxidermy we've ever seen.
At the end of the day, we didn't really spend much time on the sand at all, and even less in the water. But that was fine; it was still a fun and sufficiently weird day out. Check out our pictures of this unique little beach and, if you go yourself, don't forget to greet the ducks with respect! I wasn't joking… I think they really might run this place.
More Playa de San Marcos Photos: