The Abandoned Leper Sanitarium of Abades
On a hill overlooking both the town of Abades and the Atlantic Ocean, is the unfinished skeleton of a vast medical complex which was meant to treat patients suffering from leprosy. We're always drawn to abandoned places, and couldn't resist poking around the remains of the sanitarium.
Work began on the Sanatorio de Abades in 1943, a time during which leprosy was running rampant on the Canary Islands. Medical innovation, however, outpaced the speed of construction, and the authorities soon realized that this massive and costly complex wouldn't be necessary. So, they simply halted work and left it half-completed.
We parked in Abades, a wretched village of identical concrete townhouses from the 1970s. Somehow, the town manages to compete with its abandoned sanitarium for the title of "most chilling and lifeless". But walking through its quiet streets was a fitting beginning to a day that was supposed to be creepy.
We didn't waste much time in town, and directed ourselves straight up the hill toward the leper colony, where we were greeted by the austere facade of the church. As a product of the 1940s, this entire complex is Francoist in its architecture and planning, with equal focus on Catholicism and the state, and overly large, austere buildings. Along with the concrete church, the sanitarium includes a hospital, schools, administrative buildings, and a crematorium.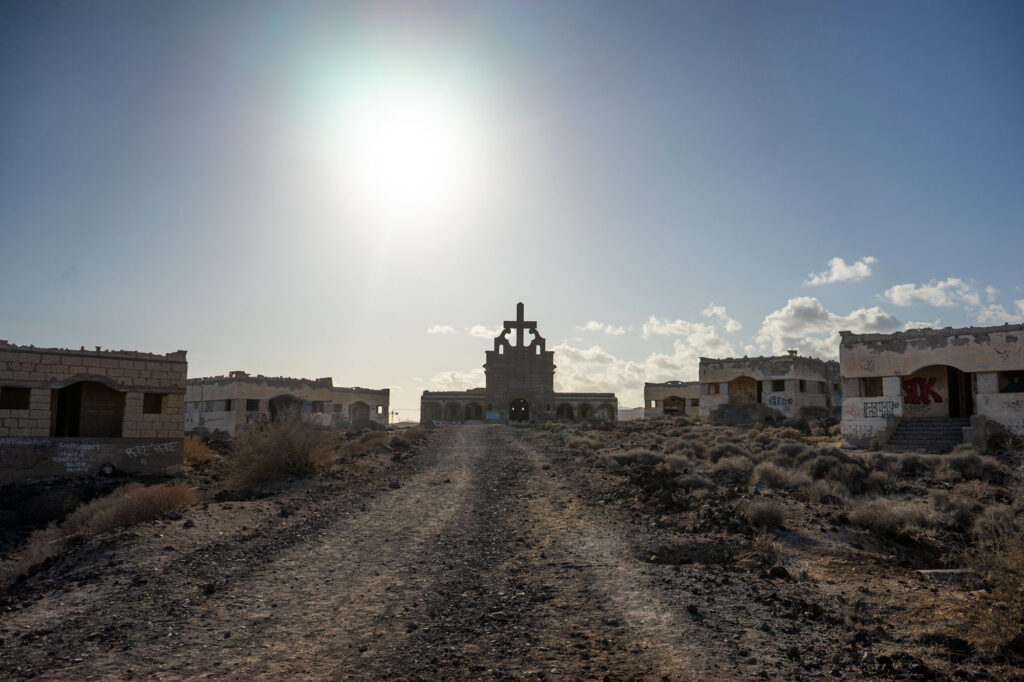 None of it was ever put into use — nor should it have been. Despite popular belief, leprosy is not very contagious, and its treatment certainly doesn't require isolation; this was established even in the 1940s. Eventually, authorities realized this grand project had been a waste of time and money, and pulled out. The space would be used in the 1970s for military exercises, but has otherwise become the exclusive domain of bored kids and graffiti artists.
After exploring the ruins, we took one of the many paths down to the sea, arriving before long at the Playa Cueva de la Arena. On an island otherwise overrun with tourism, this is a strange corner, with not a foreigner in site, and very few locals for that matter. The beach was nice, but we continued straight back to town, where we got in our car and sped off… Abades and its sanatorium made for an interesting day out, but it wasn't the kind of place which makes you want to linger.
-Follow us on PINTEREST
Abandoned Leper Sanitarium of Abades Photos