San Andrés and the Playa de las Teresitas
The vast majority of visitors to Tenerife come for the sun and the sand; this is a tropical destination known primarily for its beaches. But during our first month on the island, we didn't visit a single beach, concentrating instead on the forests and mountains. Today, though we decided to check out the Playa de las Teresitas, in the town of San Andrés just up the coast from Santa Cruz.
Las Teresitas is a classic semi-circular beach, with golden sand and a wave breaker just offshore to calm the waters. We were immediately struck by the color of the sand, so different from the black, volcanic variety we'd seen at other beaches on the Canaries, and weren't surprised to learn that Las Teresitas is an artificial beach. In the 1970s, sand from the Sahara was imported and dumped on top of the natural black-sand beach which had always existed here.
We spent the day on the sand, enjoying the sun and even getting in the water; fairly cold on this mid-January day, but manageable. The crowd here seemed to be mostly locals … or at least, mostly Spanish. San Andrés is located on the opposite end of Tenerife from the classic resorts of Costa Adeje, and appears to attract a totally different crowd.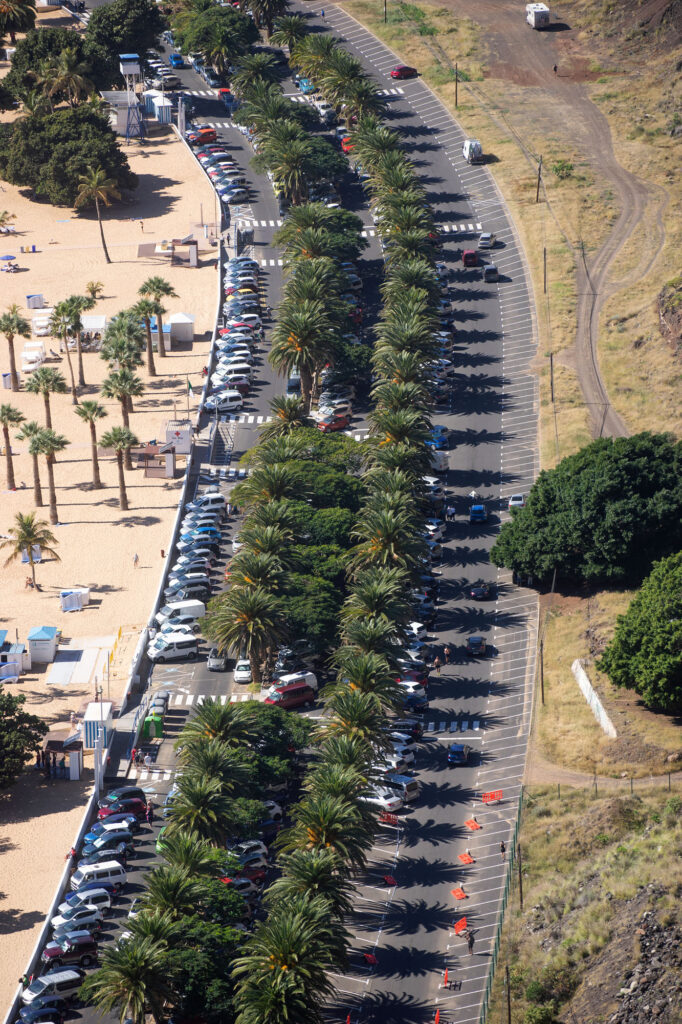 After a few hours on the beach, we drove up to the Mirador dos Playas (here), from where we had a fantastic view of Las Teresitas. It was an excellent day out, and although our Tenerife experience has been more about hiking than beaches, we were starting to think that the ratio might need to be adjusted a bit.
-Our Tenerife Travel Videos on Youtube