Thus far, our adventures in Tenerife had largely focused on historic towns, local restaurants, and hikes through unpopulated areas of the highlands. But there's another whole side to the island; the side to which a huge majority of foreign visitors restrict themselves. Today, we got our first taste of that other side, with a visit to Puerto de la Cruz. And we didn't like it.
Puerto de la Cruz lies below the city of Orotava, where the massive valley meets the sea. It's much bigger than Orotava, but that's a recent occurrence; an explosive growth due entirely to tourism. As such, Puerto de la Cruz is not going to win any beauty contests. In fact, it's largely a blight on the otherwise gorgeous coastline; a collection of rapidly-built high-rises designed to maximize profit for early investors.
I'm not going to pull any punches, so I apologize in advance if you had a wonderful experience in Puerto de la Cruz, and have a fond space in your heart for the city. For us, the contrast of visiting it immediately after Orotava was too much. Lovely Orotava with its stately architecture, verdant parks, quiet streets, and sense of pride… Puerto de la Cruz with its architectural eyesores, abundance of quick-marts and chintz-shops, exposed, sun-burnt bellies, and awful restaurants advertising schnitzels and English breakfasts.
We made an effort to find something redeemable in Puerto de la Cruz, but to be honest, our hearts weren't in it. The beach, Playa Martiánez, was cool enough, and seems popular with surfers. But although watching surfers is a reliably pleasant activity… it wasn't in this case! There were just so many out in the water! Dozens of surfers competing for waves in this tiny bay, and instead of marveling at their wave-riding ability, we kept expecting someone to be decapitated. It was horrifying.
From here, we walked past the Marítimo Martiánez: a bizarre park with large pools, and the aesthetic of an aquarium for humans. This spot has been attracting tourists since the end of the 19th century, and is credited with helping grow Puerto de la Cruz into a tourism destination, but the pools and full complex weren't built until the early 1970s. We couldn't imagine who'd pay money to spend the day on the gleaming white cement of this "park" where you get neither the feel of sand on your feet, nor the waves of the ocean.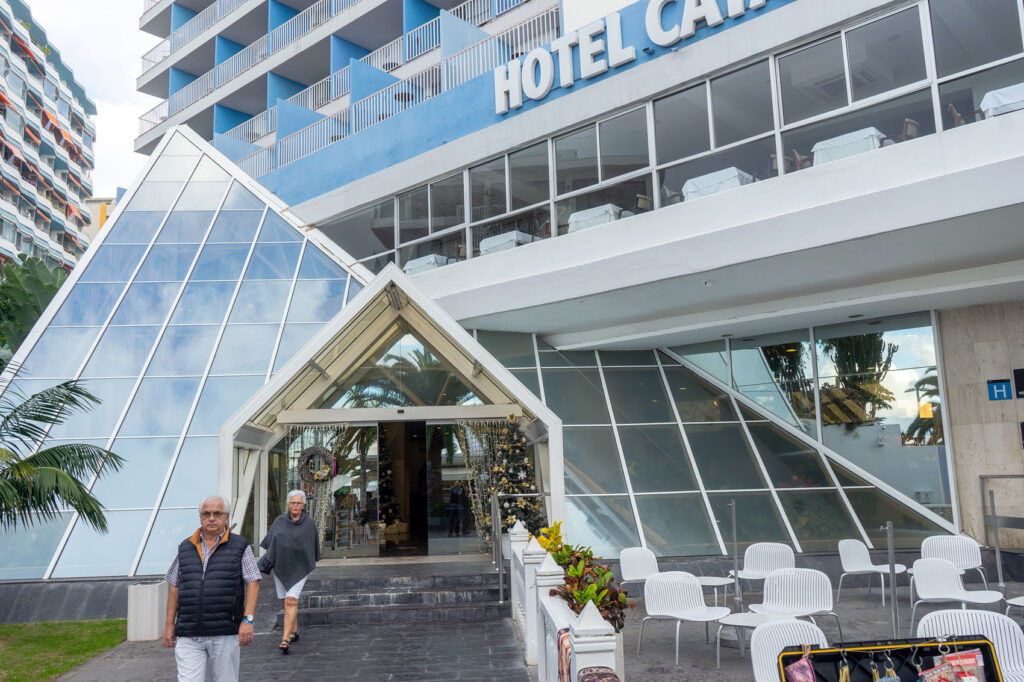 Puerto de la Cruz has been around for a long time, and there are a few historic things to see — the Ermita de San Telmo, the old convent of Santo Domingo, and the Plaza del Charco could all be interesting sights. But by the time you get to any of them, fighting past the crowds of half-drunk holiday-goers stumbling around in flip-flops, you probably won't be in the mood. We weren't, and after doing the obligatory circuit from the Playa Martiánez to the Ayuntamiento, we hightailed it out of there.
Tenerife definitely has two sides. There's the amazing nature of the Teide, Anaga, and Teno, the appealing towns like La Laguna, Orotava, Garachico, even Santa Cruz, and the local cuisine and experiences found in village guachinches. And then there are the holiday-package resort towns like Puerto de la Cruz. That might be fine for families, or people looking for a relaxing week of doing nothing, but it's not the Tenerife which captures our imaginations. And with Puerto de la Cruz under our belts, I think we'll feel fine ignoring other such spots on the island.