La Gomera Hike #5: Vallehermoso
A town with a name like Vallehermoso ("Beautiful Valley") best be able to deliver the goods. We'd already spent the better part of a week on an isla hermosa, so expectations were high. And we weren't disappointed… at least by the town and its truly beautiful valley. But this wasn't our best hike, thanks to the overcast skies.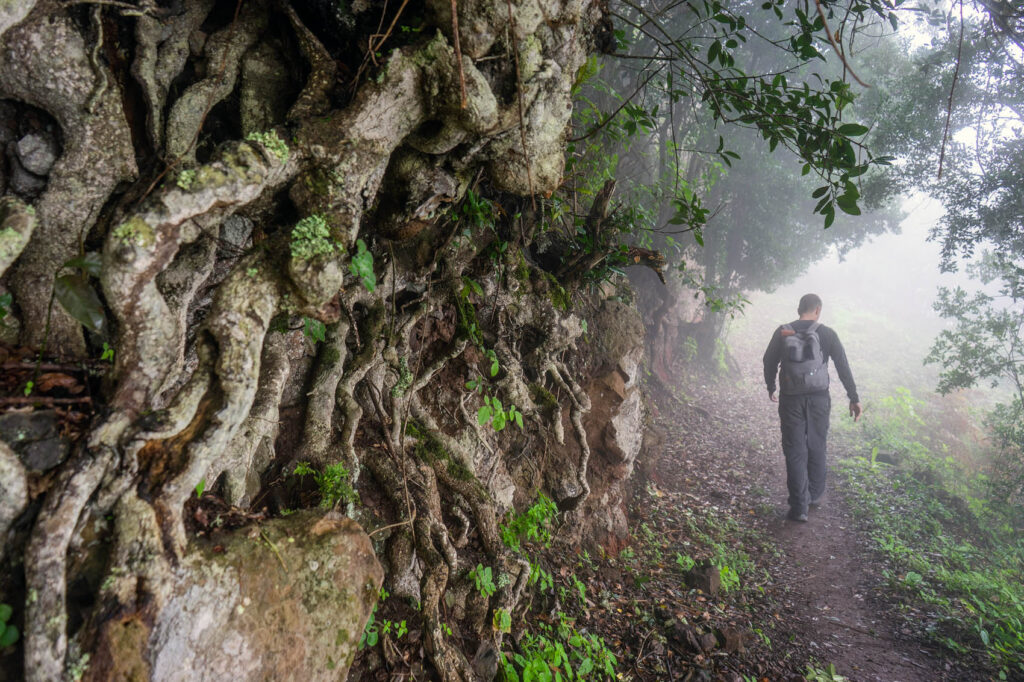 While hiking on La Gomera, overcast skies are bad news, because if your trail takes you into the hills at all, you'll literally be at cloud level. After we had ascended from Vallehermoso to the Ermita Santa Clara, we were enveloped in the clouds, with a visibility of no more than ten or twenty meters, completely obscuring what were supposed to be gorgeous views of the valley and coastline.
But that ascent! This was some of the best hiking we'd yet experienced on La Gomera, competing with the Laurisilva forests, El Cedro for atmosphere. It was a long haul, about four and a half kilometers of uninterrupted climbing, but never too steep, and the beauty of the ravine made the effort worthwhile. And since anybody with a brain had looked at the sky and cancelled their hiking plans, we were completely alone, which added immeasurably to the experience.
At the culmination of the ascent, we couldn't appreciate the views which our Rother guide and described as "spectacular" and "magnificent", but did enjoy checking out the 1888 hermitage of Santa Clara… if this and the Nuestra Señora de Lourdes in El Cedro are any indication, the religious orders of La Gomera believe their hermitages belong in out-of-the-way spots of incredible natural beauty.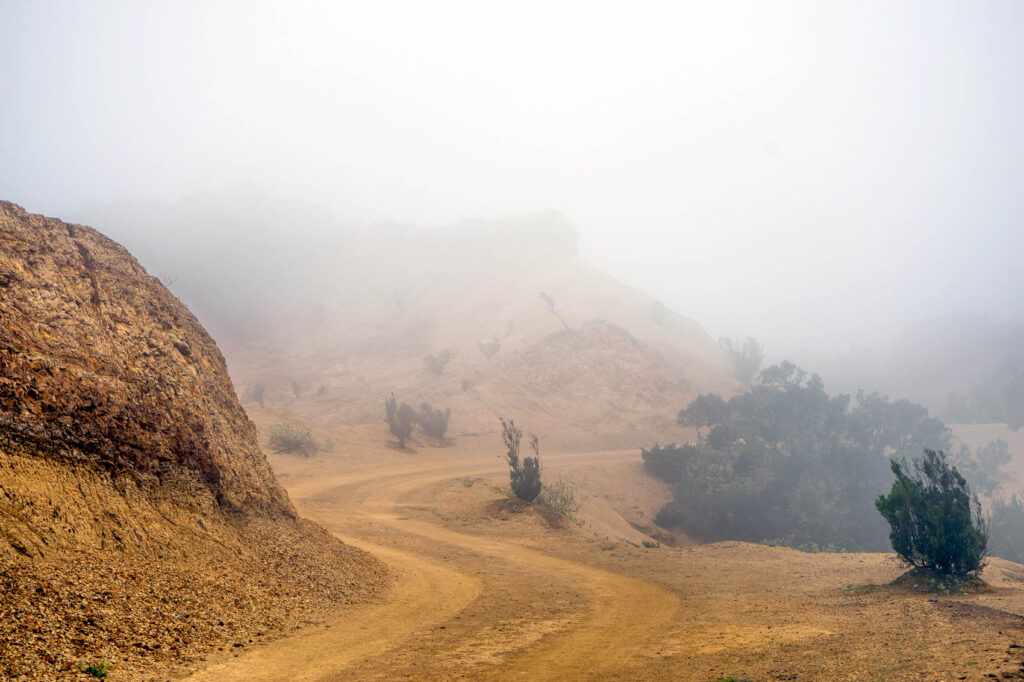 The clouds did have one important benefit. With no "magnificent," "spectacular" views to be had, Jürgen kept his camera (mostly) stashed and we made excellent time. And there was one more highlight awaiting us: the descent toward the beach of Vallehermoso. As we balanced downward along the crests of jagged cliffs, we slowly emerged from the mist and the coast came into view. The path down was a bit steeper and trickier than the ascent had been, but not too bad.
We arrived back in Vallehermoso at lunch time, and in accordance with our Gomeran tradition, sat down for a huge meal of meat and wine. This might be the best part of hiking — permission to truly indulge without the slightest bit of guilt. And the restaurants of this island seem to be accustomed to righteously hungry patrons, because portions are always massive… and the food is delicious. I'm not sure if this is a Canary-Islands-thing or a Gomera-thing, but every place we've eaten at so far, even the ultra-humble joints, have served up incredible dishes. I'm hoping for the former!